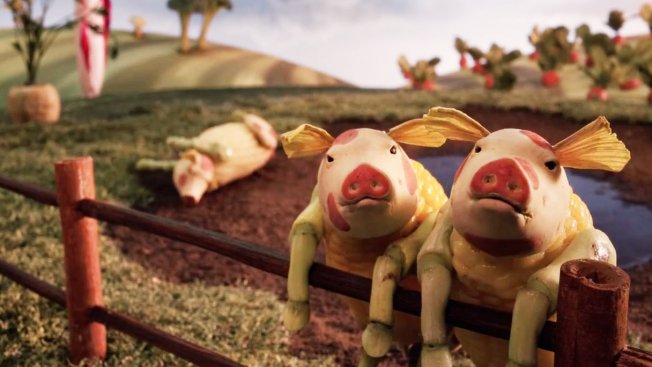 If Old McLightlife had a farm, all the pigs would be made of vegetables.
Lightlife, a ConAgra purveyor of meatless foods, launched this stop-motion animated online ad last week from Venables Bell & Partners imagining a fairy-tale plot of land where all the livestock have been replaced with versions of themselves constructed entirely out of edible flora. Set to a takeoff on "Old McDonald Had a Farm," the spot, directed by Kirk Kelley of LAIKA House, paints a picture of a place that, depending on the viewer's diet, will seem either like a form of heaven or of hell—an environmentally friendly, slaughterless paradise for vegetarians, or a torturous existential prison for meat lovers.
The visuals are delightful: a sunny cornucopia of cows built from peppers, carrots and mushrooms, pigs built from corn and asparagus, and julienne hens sitting on beets instead of eggs. In perhaps the ad's most broadly and amusingly endearing moment, a confused chicken pulls her own neck off the chopping block as the singer chirps on about "no cruelty."
The rendition of the classic nursery song is charmingly enthusiastic but also a little grating. Also, the lyrics aren't always as easy to make out as they probably should be. Still, they succeed in painting an overall picture of an earth-and-animal-loving ethos that's sure to resonate with the hard-core element of the brand's target, and alienate some of the people who would never buy its products anyway. It's certainly attention-grabbing, having already racked up more than 1.5 million YouTube views since Sept. 17, with the comments there so far bringing out trolls happy to rant from both sides of the meat-eating issue.
Regardless, it's safe to say Nick Offerman would not approve.
CREDITS
Client: ConAgra
Brand: Lightlife
Spot: E-I-E-I-O
Agency: Venables Bell & Partners, San Francisco
Executive Creative Directors: Paul Venables And Will Mcginness
Associate Creative Directors: Crockett Jeffers & Jonathan Byrne
Art Director: Beau Hanson
Copywriter: Josh Parschauer
Director of Integrated Production: Craig Allen
Agency Producer: DP Odishoo
Production Company: LAIKA House
Director: Kirk Kelley
Director of Photography: John Nolan
Executive Producer: Lourri Hammack
Producer: Rebecca Bowen
Production Designer: Elizabeth Burhop
Stop Motion Animators: Julianna Cox, Wendy Fuller, Chris Ohlgren
Character Designers: Don Flores, Gesine Kratzner, Tony Merrithew, Nicholas Weigel
Editor: Michael Corrigan
Flame Artist: Rex Carter
Sound Design: Mophonics
Sound Designers: Josh Marcy
Music: Mophonics
Executive Producer: Adam Podrat
Producer: Josh Marcy
Composer/Arranger: Michael Haziza