Bumblebee is a new mobile-friendly web solution
that puts you in the hands of users.
Operates on All Mobile Devices
Unlike a dedicated APP, Bumblebee operates on all browsers and operating systems – iPhone, Android, Windows and Blackberry. It is extremely easy to use and update because it contains its own content management system for updating content, menus and graphic elements.
If you already have a web site, Bumblebee is great add-on. Simply add a small amount of code to your existing web site (that we provide) and automatically direct small-format users to your Bumblebee site. If you don't have a web site, it may be all you need!
If you don't have a web site, BumbleBee may be the only site you need! Mobile users typically don't take the time to read lengthy text and deal with a lot of photos and graphics. Most commonly they are looking for essential information and an easy way to make contact or find you.
Features
Works on all mobile devices & computers
Works on all operating systems
Works with all browsers
No software for users to install
Integrated content management system
Facilitates geo-location
Integration to payment gateways
Links to social media channels – Facebook, Twitter, …
Search engine optimized
Applications
Cab companies
Non-profits for instant donations
Tourism related services
Trades – emergency service calls
Restaurants – mobile location and menu calls
Any business that needs to service mobile users.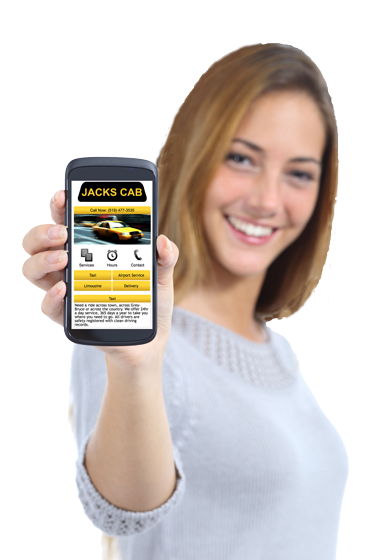 People use phones to call cabs. Why not have your service saved as a browser favourite so you get called immediately? Your BumbleBee site is easily saved as a favourite for easy recall and offers immediate dialling – make you service easier for people to remember and call. BumbleBee for taxi companies includes geolocation to make it easy for passengers to provide exact pickup locations.
This demo site uses our "Squares" design and uses a bike shop as a sample. Why a bike shop? Tourists to an area are commonly looking to rent or service their bikes when they are in a new area and don't commonly have a computer with them.
Built on our "Classic" theme this stand-alone web site is intended to generate micro-donations to programs, groups and causes that United Way supports. The ease of use of this mobile platform simplifies the donation process and is integrated to CanadaHelps.org, an agency that processes donations for non-profits. This is a live site,
QWIK PRINT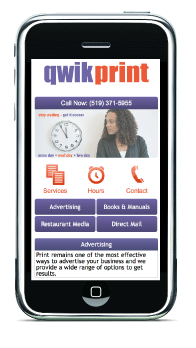 Mobile for a local print shop, being redirected to from the company's main web site. Business people visiting a new town look for these services when they need materials for sales presentations and marketing. A mobile version makes the business more accessible and easy to locate. This site is built on our "Classic" theme.
Technical Info
BumbleBee includes a content management system so you can easily upate it for special offers, announcements and news. Its flexible design allows for as much content as a standard web site including text, photos, graphics and video.
BumbleBee is easily linked to Facebook, Twitter and other social media channels. The large click-on controls permit immediate phone dialing, email and texting. Users can easily bookmark you for instant recall in their browser.
BumbleBee is search engine optimized to make you easy to find and can be linked to from any source. Insert a few lines of code in any existing web site and mobile users are immediately directed to your BumbleBee site.
BumbleBee for taxi companies includes geolocation to make it easy for passengers to provide exact pickup locations.
BumbleBee for non-profit organizations interfaces with CanadaHelps.org to facilitate micro-donations to your organization or current cause.
Pricing
BumbleBee has special introductory pricing that makes it affordable for any type of business, non-profit organization or group. Here's what you get:
• BumbleBee site built on an existing template
• 2 Hours of site customization
• 1 Hour operations tutorial
• User operation manual
• 1 Year of web site hosting